The Ghostrunner Metal Ox Pack DLC and Two New Free Game Modes are here!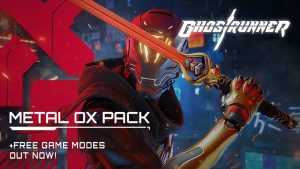 The first of the many exciting plans revealed in last week's 2020/2021 Ghostrunner Roadmap have become a reality! What will you choose to try first? Will it be the vibrant Metal Ox Pack DLC? The additional challenge of Kill Run Mode? Or have you been itching to capture the perfect Ghostrunner screenshot in Photo Mode for your next mobile background? Choose carefully, you never know when the Keymaster could be watching.
Watch the Metal Ox Pack Trailer

The Metal Ox Pack DLC
The Metal Ox Pack DLC will spice up your runs with four new sets of gloves and swords in celebration of the Year of the Metal Ox. Inspired by Chinese culture, the sets are named after four of the five Confucian constant virtues: Benevolence, Justice, Integrity, and Rite.
For a limited time, you can get the Metal Ox Pack and the Winter Pack, together with Ghostrunner at a 10% discount when you get the Keymaster bundle on Steam: http://505.games/GRSteam
New Game Modes
Did you think that Ghostrunner wasn't challenging enough? Or maybe you've just been wanting to stop and smell the stench of a dystopian world roses? These new game modes are for you.
Kill Run Mode
Take on the challenge of Kill Run Mode in which eliminating enemies and picking special clocks adds much needed seconds to your countdown timer. Find the perfect balance between combat and speedrunning while staying alive! Can you reach the end before time runs out?
Every level completed will earn you a medal—aim for the best times and collect all the medals to unlock an exclusive sword and glove set reserved only for the best.
Photo Mode
There's hardly any time to enjoy the stunning streets and bright neons of Dharma Tower when you're considered a public enemy. Or is there? With the brand-new Photo Mode, you'll be able to capture the dark and beautiful views you usually have to run past. Take a break from constant slashing and dashing to create the perfect shot with your favorite filters and modifiers and share it with the Ghostrunner community.
If you are a Ghostrunner at heart and want to be a member of the Ghostrunner community then join the official Ghostrunner Discord server. Discord

For more information about Ghostrunner, including full language support, visit the official Ghostrunner website.
Join us on social media:
Twitter
Facebook
Instagram
See you in the Cybervoid runners!