Journey Mode provides a more accessible Terraria experience by placing the power to create the gameplay you desire in the palm of your hands. Research blocks that you dig up, items that you find, and enemies that you defeat in order to gain the limitless power to duplicate or to adjust the difficulty of the game to your whims. At last, you can have the Terraria experience perfectly tailored to your desires… the only limit is your imagination!With Great Power Comes Great Accessibility – Introducing Terraria's New Journey Mode
How will all of this work on mobile? Well this is where some of the new Mobile UI changes come into play. Here are just a few examples:
Research & Duplication are located within Inventory on Mobile – so you can Research, Duplicate, Craft, and Repeat all without leaving your Inventory Screen!
Control the Weather, Difficulty, Enemy Spawns… Godmode… and much more with your Journey Powers located in Settings!
A next-level challenge intended for those skilled, brave, or foolish enough to take it on, Master Mode represents the ultimate Terraria challenge. Unrelenting, Master Mode will punish your every mistake and force you to prepare and up your game like never before. Do you have what it takes to prove that you are a Master of Terraria?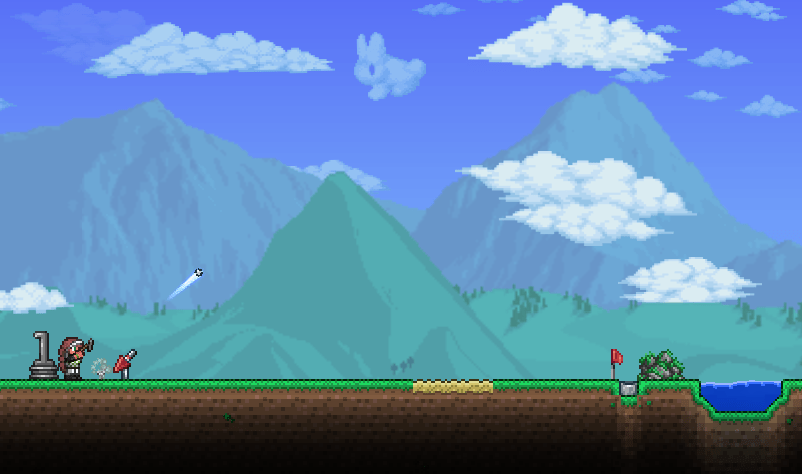 Time to hit the links in the world of Terraria! That's right, Journey's End brings the timeless game of golf to Terraria. Featuring an array of golf clubs, scorekeeping, and more, Terraria Golf introduces a whole new way to play. Create your own epic golf courses, share them with your friends, and then meet up on the links to challenge each other – who can hit the ball the longest, who has the best short game, and who has what it takes to make that clutch putt when it's all on the line?Want to learn more? Check out our Feature Article all about Terraria Golf!
FORE-RRARIA! Hitting the Links with Terraria Golf
Want to see what all Terraria Golf has to offer? On launch day, be sure to download one (or all) of three killer golf maps hand-crafted by our beta testers – including courses created by some of the most talented builders across the Terraria community. Link below!
OFFICIAL JOURNEY'S END GOLF MAP STARTER KIT

BLOCK SWAP

Beware! For when too many tombstones gather together, the air shall chill and the mists roll in… what mysteries will you find buried six feet deep in the Graveyard?

FULL REBALANCE PASS ON ENEMIES AND ITEMS
As a part of Journey's End, the team examined and re-examined the balance of the content in the game. From start to finish, no stone was left unturned and no gear left unaccounted for. In the end, what remains is a full rebalancing of the game from top to bottom. Stats have changed, functionality has changed. There is no better time to start a fresh playthrough and experience the new Terraria for the first time!
Read all about the Revisit and Rebalance via the Article below!
What was Old is Made New Again: Revisting the Terraria Experience

BESTIARY & ZOOLOGIST NPC
The world of Terraria is so chock-full of content, it can be hard to keep track of it all! Sure, the Guide has you covered for crafting recipes and the Terraria Wiki is fantastic – but don't you wish there was a way to know more about your foes? Where can I find the Lost Girl? How much health does a Derpling have? How many coins can I get from farming Jellyfish? Wonder no more, for the Terraria Bestiary is here!
As you defeat foes, you will learn more and more about them – key stats, locations, drop rates, background info and more!
Learn all about the Terraria Bestiary by reading our recent Feature Article on the topic!
Mythical Beasts & Where to Farm Them: Exploring Terraria's Bestiary

EXPAND YOUR TERRARIA EMPIRE – PYLONS, TOWN BUILDING, AND NPC HAPPINESS
During Journey's End development, we conducted a focus group with all of the Terraria NPCs. Outside of some very strange requests (no, Guide, we cannot 'remove all doors at night'), their feedback was very clear: they are tired of being shoved into tiny cubicles or L shaped tubes and they want you to know this!In order to help raise NPC morale so that they could be at their very best – and to reward players who go that extra mile to treat their NPCs with the respect they deserve, we are introducing the NPC Happiness System. How does it work? What does this mean for you? We have provided some details below, but you can check out our full Feature Article on the topic linked below as well!
Expand Your Terraria Empire – Pylons, Town Building, and NPC Happiness
What affects NPC Happiness?

NPCs are happier when you locate them in biomes that they prefer​

NPCs are happier when they like their neighbors​

NPCs are happier when they are not overcrowded with other NPCs​
Adding nice furniture and aesthetics doesn't directly affect NPC Happiness… but it sure will make you feel better about yourself when your friends come over for a visit. 
What Happens if my NPCs are Happy/Unhappy?
NPC Shop prices will adjust based upon how happy each NPC is at the time​

If you make an NPC happy enough, you will gain access to a Pylon for that Biome (more on this below!)​
How can I tell if my NPCs are Happy?

You will notice a new dialogue option for Happiness for each NPC​

This will give you hints about what might make them happier as well!

ROADS, WE WON'T NEED ROADS – INTRODUCING PYLONS
We briefly mentioned these mysterious Pylons in our section on things you can get with happy NPCs. So what are these, and why should you care? Well, if you have enough happy NPCs in a given biome, you will unlock the use of a Pylon for that biome. Pylons allow you to instantly teleport from one Pylon to another! With Pylons in place, your "big central base" now becomes an interconnected network of cool outposts all over the world, allowing you to get around quickly without the need to lay tracks or teleporters… and providing you a home away from home wherever you are!
PYLON INSTRUCTION MANUAL
You can only have one Pylon of a given biome type placed at a time (so you can not have, for example, an Ocean Pylon at both Oceans)
Pylons must be placed in their aligned biome in order to function (you can place them anywhere else, but they will not work!)
Pylons must also have two nearby (and living) NPCs in order to function – again, the idea here is to reward building those bases/towns! 
Pylons cannot be used during Boss Battles or Invasion Events!
Pylons are quite easy to use. Once placed in their aligned biome, you simply click on a nearby pylon. This will take you to the map screen where you can locate another placed pylon to which you want to teleport, click it and off you go!

Journey's End has so much more to find and experience – we hope this very top-level summary has made you more familiar with some of the bigger features.

Join the Terraria community in the official Terraria Discord server located at https://discord.gg/terraria